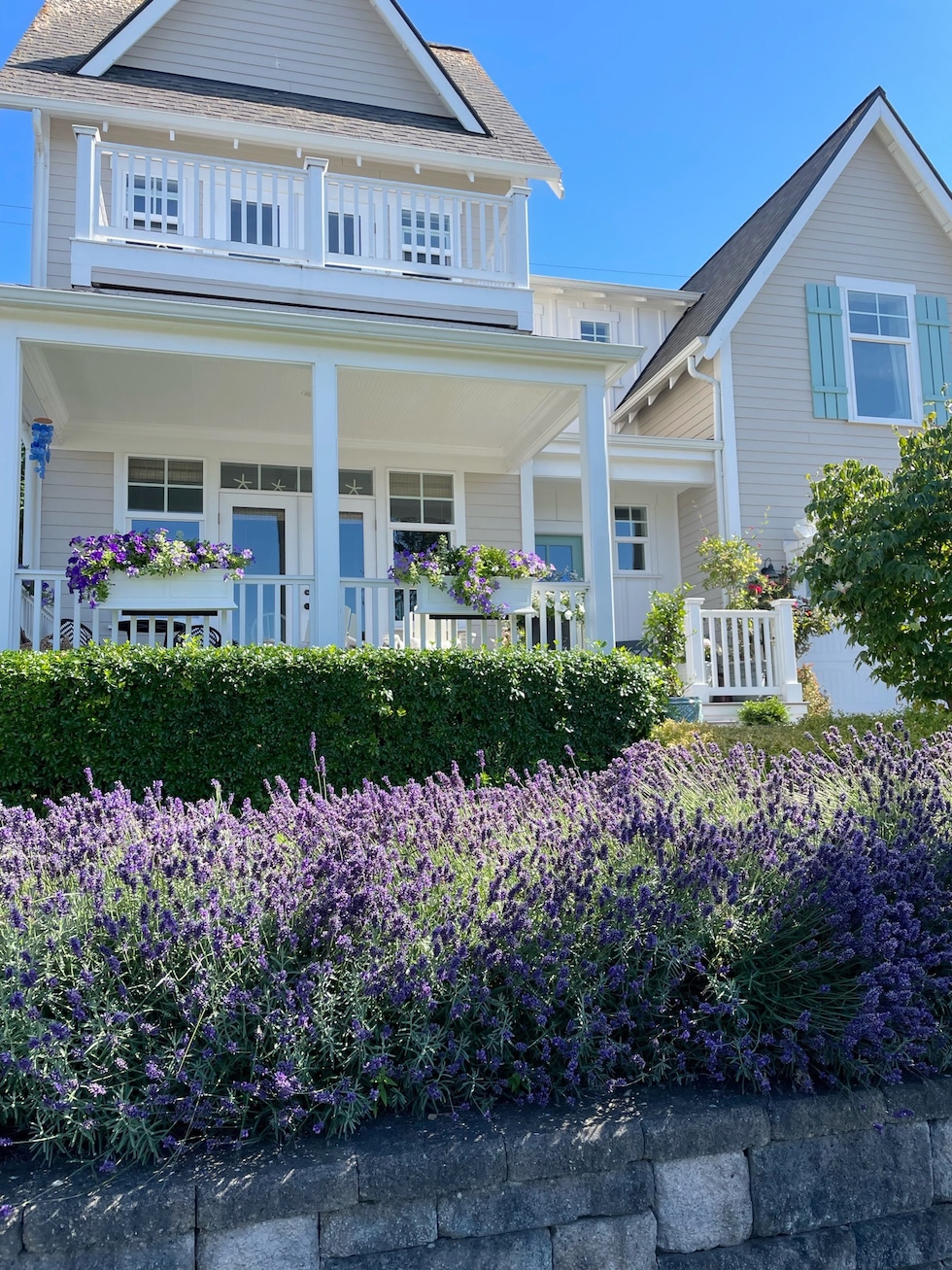 Over the years, we sometimes dreamed about the possibility of building a backyard cottage for my parents to live in at our Seattle home! The backyard cottage never came to be in that location, but we are finally realizing the dream in a new way! Today I can't wait to share the progress on making that dream a reality.
My parents are currently building a darling backyard cottage, but it's attached to our new home! I'll share some progress on it and give you a little peek into some of the "tiny cottage" elements they've chosen to make this space work for them.
But first a quick recap of how we got here!
When it was time for my husband and me to enter our "empty nester" phase of life a little over a year and a half ago, we had a choice to make. Would we stay in Seattle or was it time to move on? We were torn as we loved our previous house and could see it as a forever home!
But when we found this sweet little home on an island about an hour and a half away, it felt like the home we always dreamed we'd have someday. The location overlooking the water with a short walk to the beach, a small town and beautiful local destinations to enjoy, confirmed the kind of empty nest life we ​​wanted to live.
We had invited my parents to consider moving with us, wherever we landed. When we found this small and tiny house, as much as we loved it, it didn't seem like a place to share, so we initially felt we needed to pass it by.
It certainly wasn't the "ideal" size or layout most people would consider for multi-generational living. But as we gave ourselves some time to talk about this home and location with its merits and potential, it became clear that in many other ways, it really was ideal.
Could we make it work?
After taking to my parents, assessing dreams and long term goals, thinking through the timing, and considering everyone's immediate and future needs, as well as resources, we soon felt confident that this home was meant to be ours.
We took the leap because we all agreed we were up to the challenge of making this home comfortable for all of us. It took a lot of thought, space planning and some clever design effort to make this backyard cottage concept work.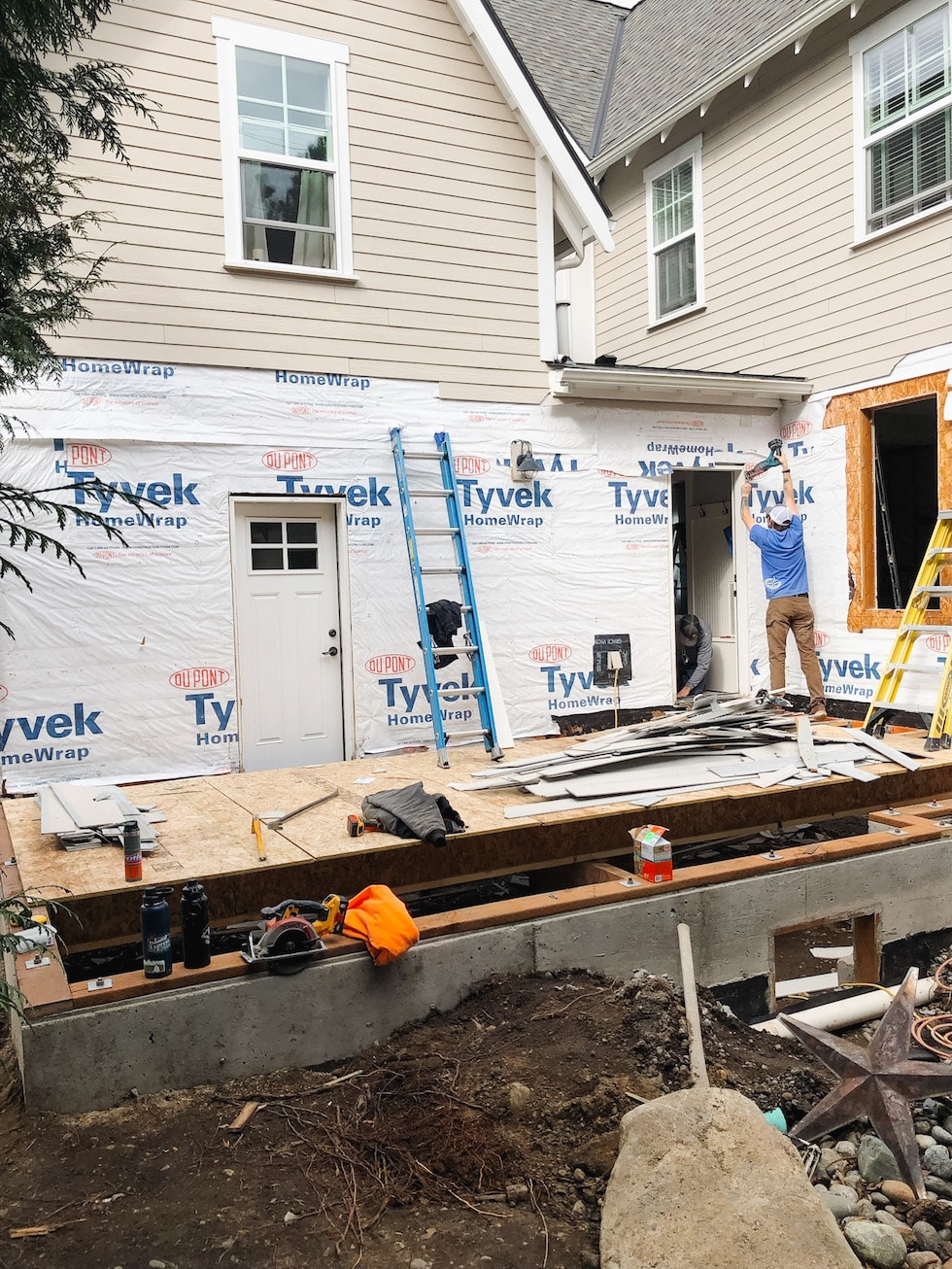 Our lot isn't big enough (nor was it zoned for) a separate backyard cottage, so we decided to make it an addition! There were a few sacrifices and compromises, but that's actually one thing I love about a smaller home. You really learn to focus on what matters most to you. We need far less than we think we do :).
My parents designed every detail of this cottage themselves, they love houses as much as I do :).
Once they got the architectural drawings, permits and required approvals, the project got under way.
I'm so thrilled my parents will have such a cute place to live, and even better, they are living close by! In fact, right under our roof! It's wonderful that they will get to enjoy the neighborhood, small town and life by the sea, too.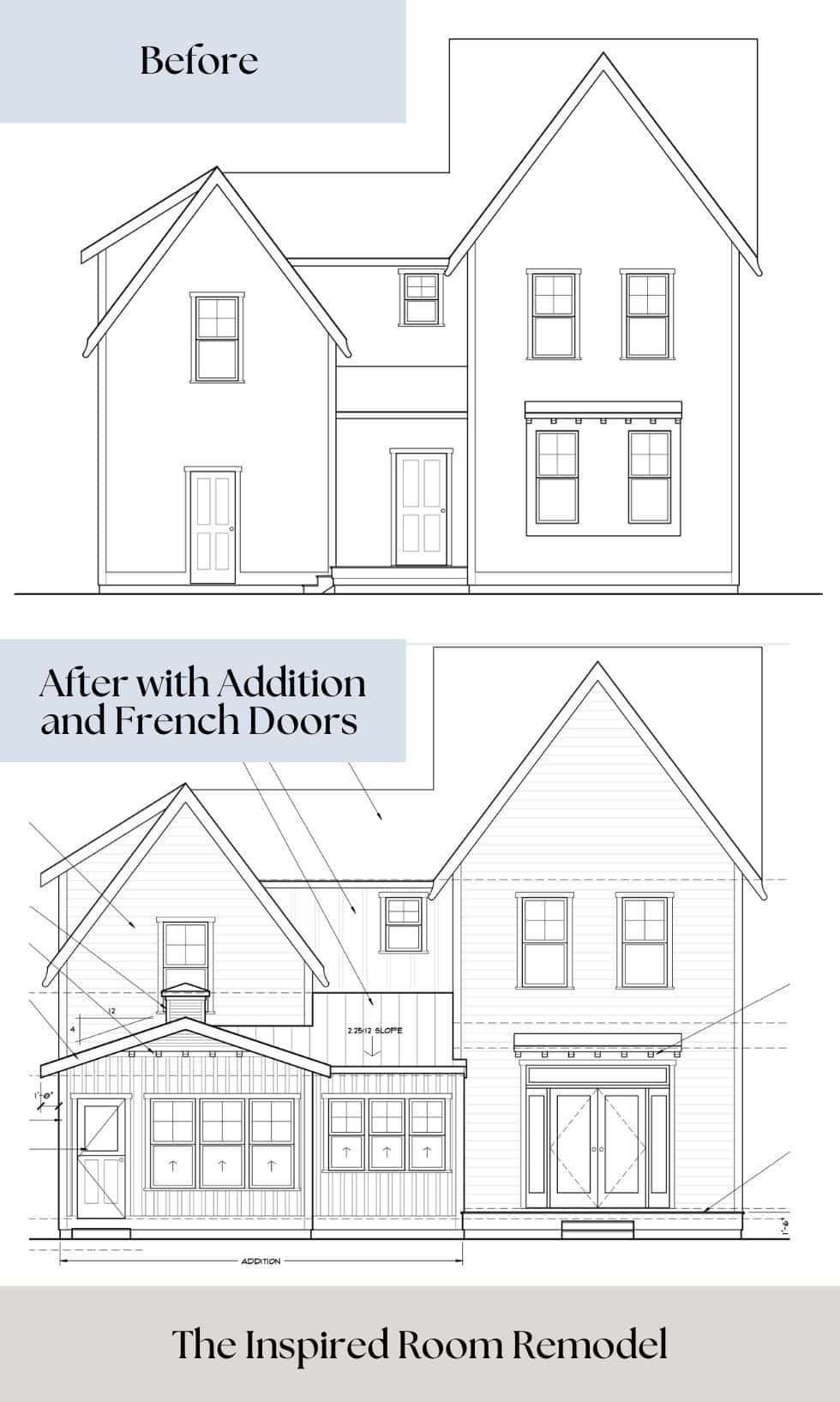 Below I'll share some photos of the progress so far as well as a few details about their space.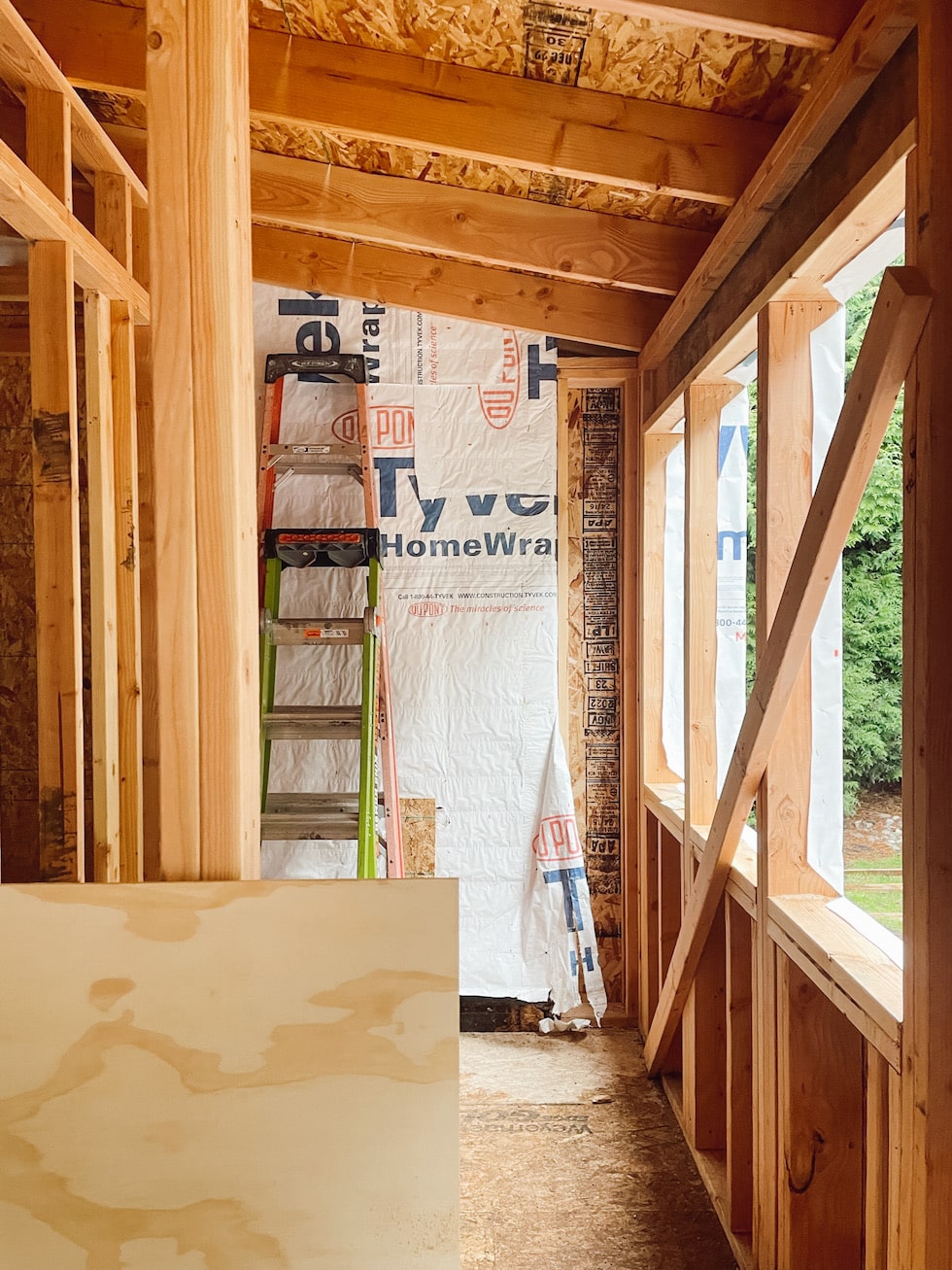 Q: Will your parents' addition have their own kitchen?
A: Yes, it will actually have a darling partially enclosed kitchenette. The kitchen will be on one interior wall, with three windows on the backyard side! The ceiling will be vaulted, so while it's a tiny kitchen, it will feel airy, light and bright!
They have ordered the cutest "small space" appliances for it like this white countertop oven/air fryer and a matching espresso machine!
The kitchen design will be so charming with blue and white checkered tile backsplash, blue cabinets and a vintage looking fridge. I picture it as a European cottage by the sea! Soon I'll share a mood board for their design.
I love the windows all across the back, they just went in TODAY! So excitng!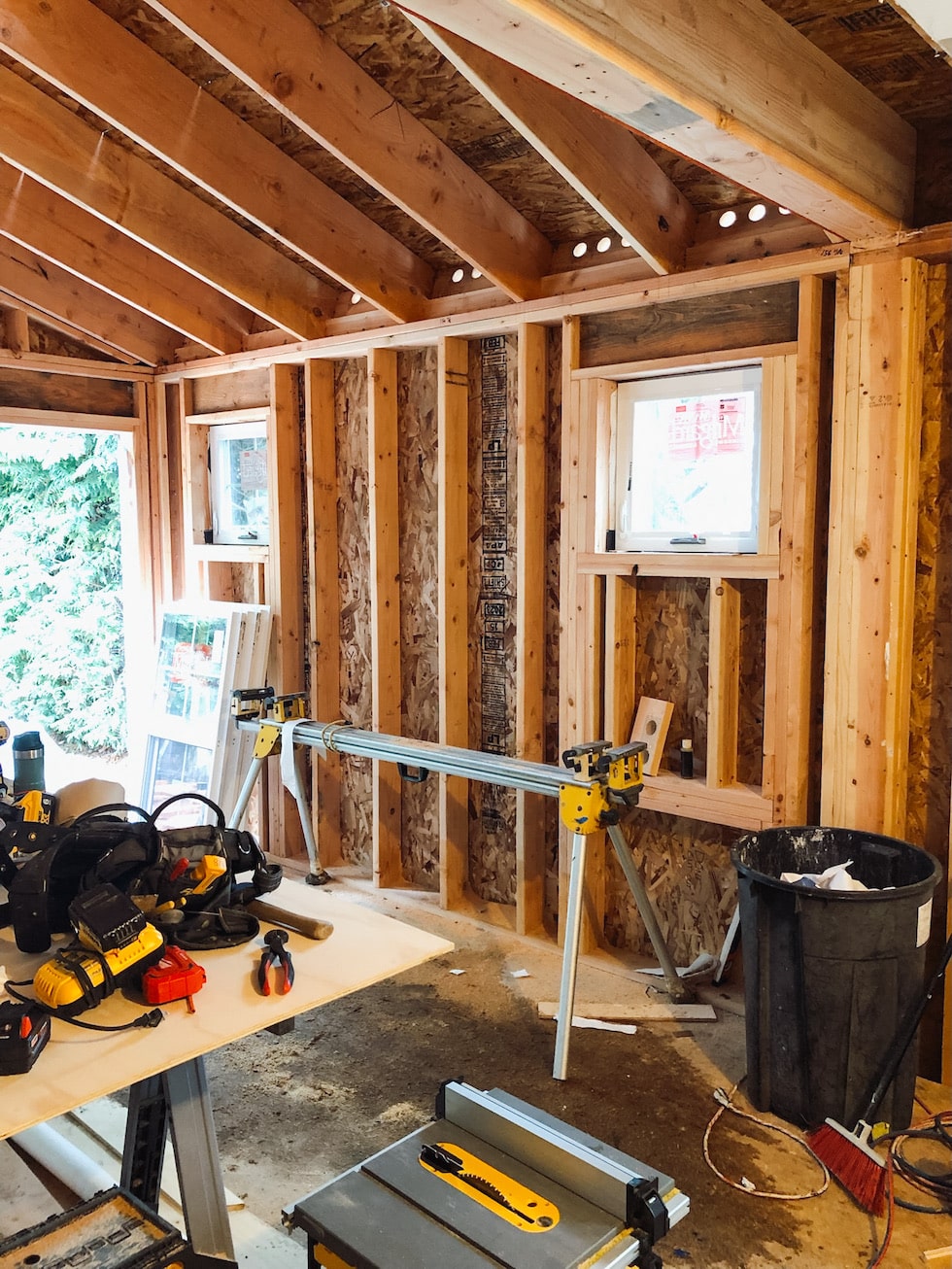 Q. How many square feet is the backyard cottage?
A Originally we thought the addition would just be a bedroom and bathroom, but as the design came together, they decided to make it more of a self-contained cottage by adding a kitchenette, a main sitting room, and a bedroom nook! It wasn't easy to fit it all in, but it's everything they need.
I believe it's about 400 square feet, which was the absolute biggest footprint it could be given the limitations of the building space.
The sitting area will also have a vaulted ceiling, which will create a sense of more space. The walls and ceilings will be white bead board and their flooring is the same as ours, the European white oak.
The windows let in so much light, even on a cloudy day! Their sitting room will have their frame TV, a coffee station with this pretty espresso machine (they love coffee), and a really cute electric fireplace for added coziness on chilly days.
The exterior will be so charming, too. It was designed to complement the rest of our home as well as suit the style of homes in our neighborhood. The addition will have white board and batten siding (which matches parts of our home), the new roof will be metal, they'll have their own (blue!) exterior door and a charming siding detail on the peak (stay tuned to see it).
We can't wait to share more of their sweet tiny backyard cottages with you!
More Posts about our Remodel:
Kitchen Renovation Update: Floors, Cabinets, Sinks, Hardware and More
Kitchen and Dining Room Renovation Update! Projects Have Begun!
Our New Kitchen Design Mood Board (and five questions that help me make decisions!)
Adding Character in a Kitchen Remodel: The Tale of Our New Range and Faucet
My New Kitchen Floor Plan + Parents' Addition and Exterior Elevation
5 Design Books I Love for Remodeling Inspiration