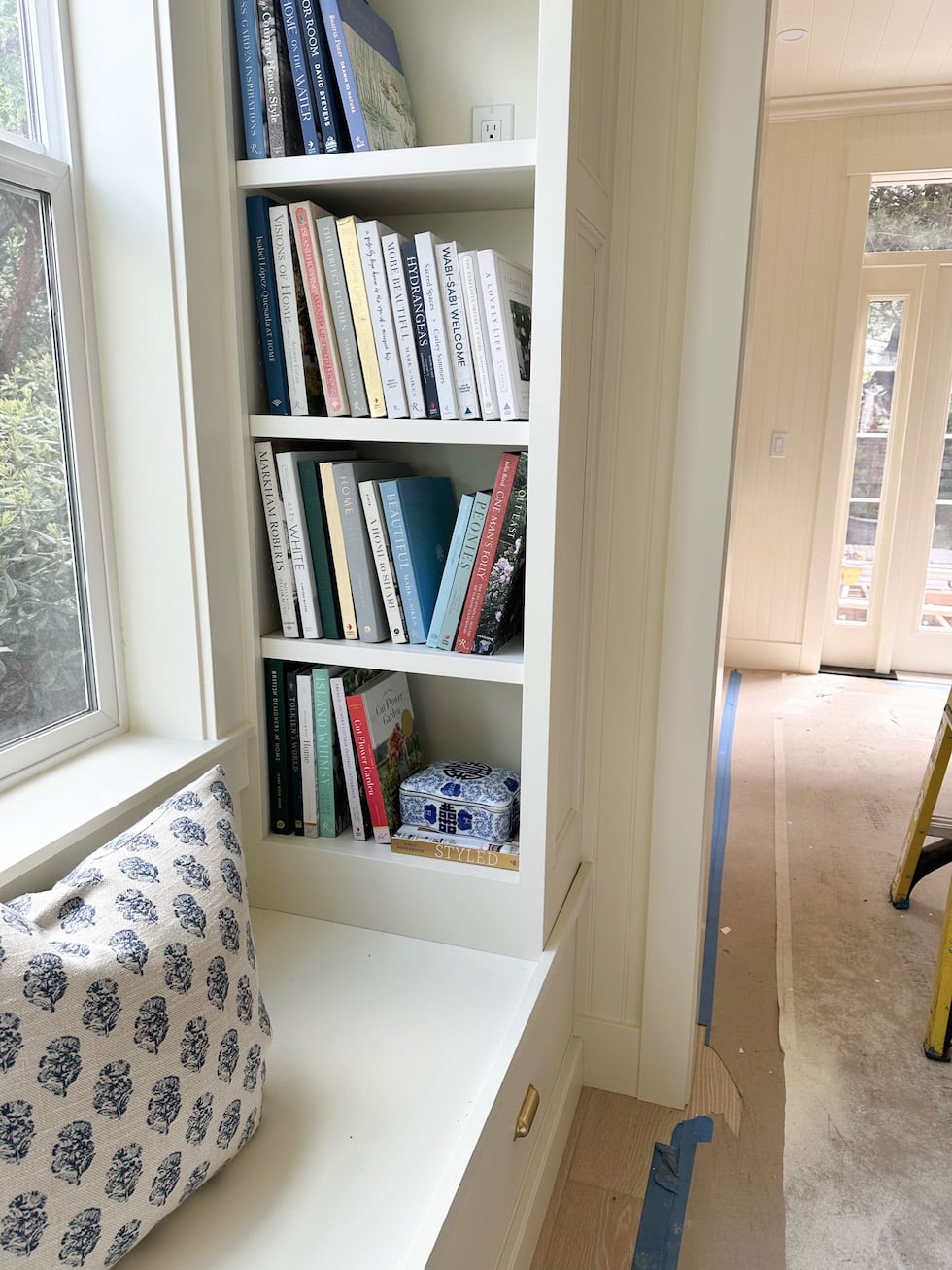 Hi friends! Our contractors have been busy bees here on our beach house kitchen remodel and the addition of the Tiny Cottage! Every time I refer to our home as our beach house I think it sounds like we must have a second home, but in fact, this is our only every day home! Even so, it's like being on vacation every day. We live up by the San Juan Islands, so it's a lovely place to visit and you can easily get to so many beautiful destinations by car or ferry.
If you are new here or just catching up, we moved to this island from Seattle a year and a half ago. My parents have moved in with us and we're in the process of adding on a Tiny Cottage for them to the back of our home and a renovation of parts of the rest of the home. It's not a large house, in fact, it's just a little over 1900 square feet, but we're adding about 450 square feet to it in the Tiny Cottage.
My husband and I are officially empty nesters now, but we want this beach home to be a gathering place for our family so we're making it as comfortable and inviting as we can!
You can catch up on our remodeling posts here.
There are still many key details to come in both spaces, but it's fun to share the latest project progress with you!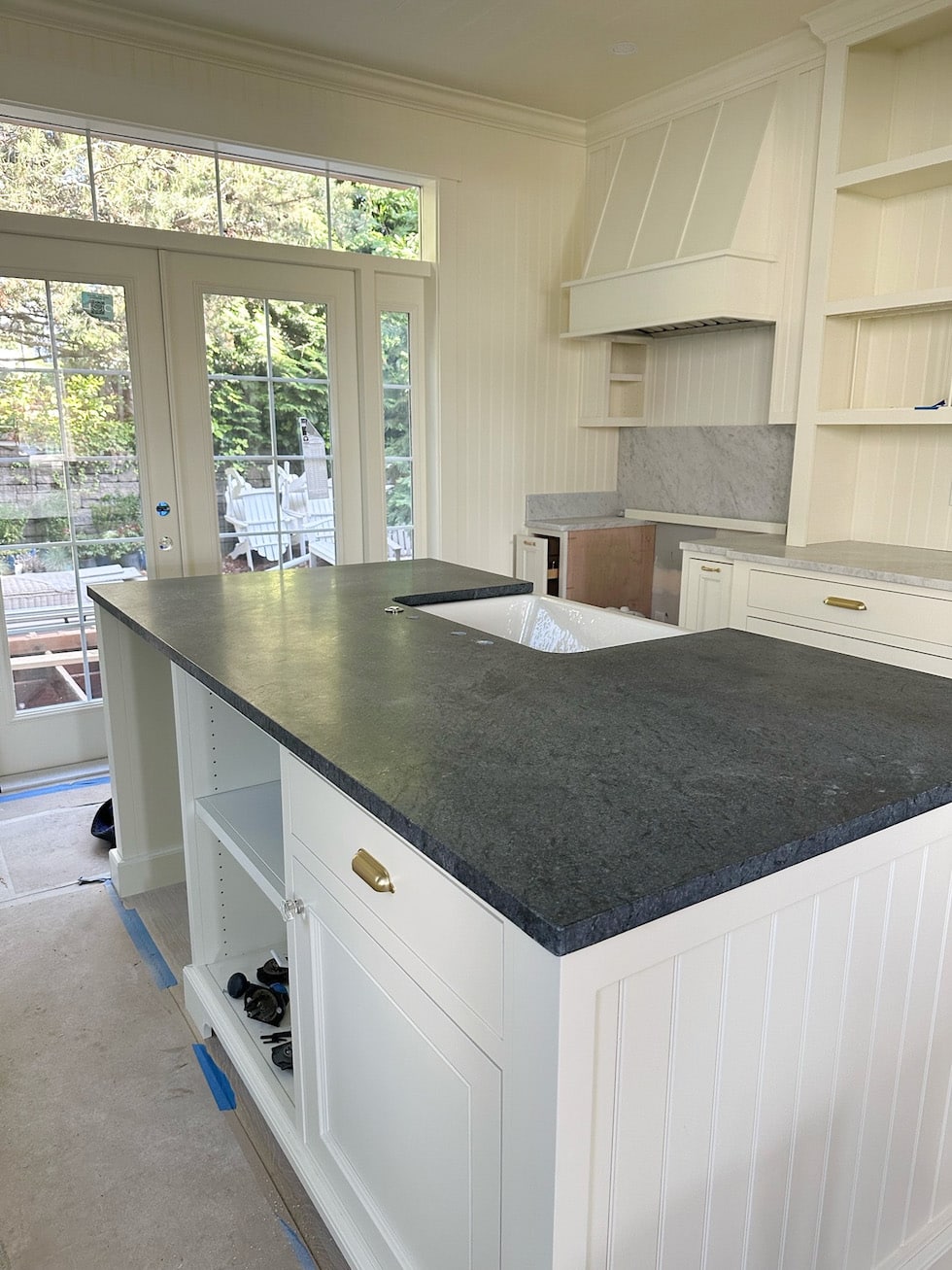 Last I shared we didn't have our walls or ceilings done yet! They are painted Classic Light Buff by Sherwin Williams (same as the kitchen cabinets). We are loving the cozy warm white and the beautiful golden hour glow in here when the sun pours in (thanks to our new windows and doors!) I can't believe the natural light we get now!
We're still waiting on Beatrix to be brought in (our new blue green stove) to the new kitchen. She will of course be the STAR of the kitchen (and a color style-setter for the rest of the house ha!) but we also can't wait to see the faucet, lighting (these pendants over the island, and this chandelier with blue shades over the dining table), wood floors to be uncovered, other appliances to go in, and all the finishing touches that will bring the space together as we envisioned it.
Each new addition is so exciting, but I'm also always anticipating the next significant part of the design so we can finally see and enjoy it as a whole.
You can see our kitchen design mood board here to see more of what's to come!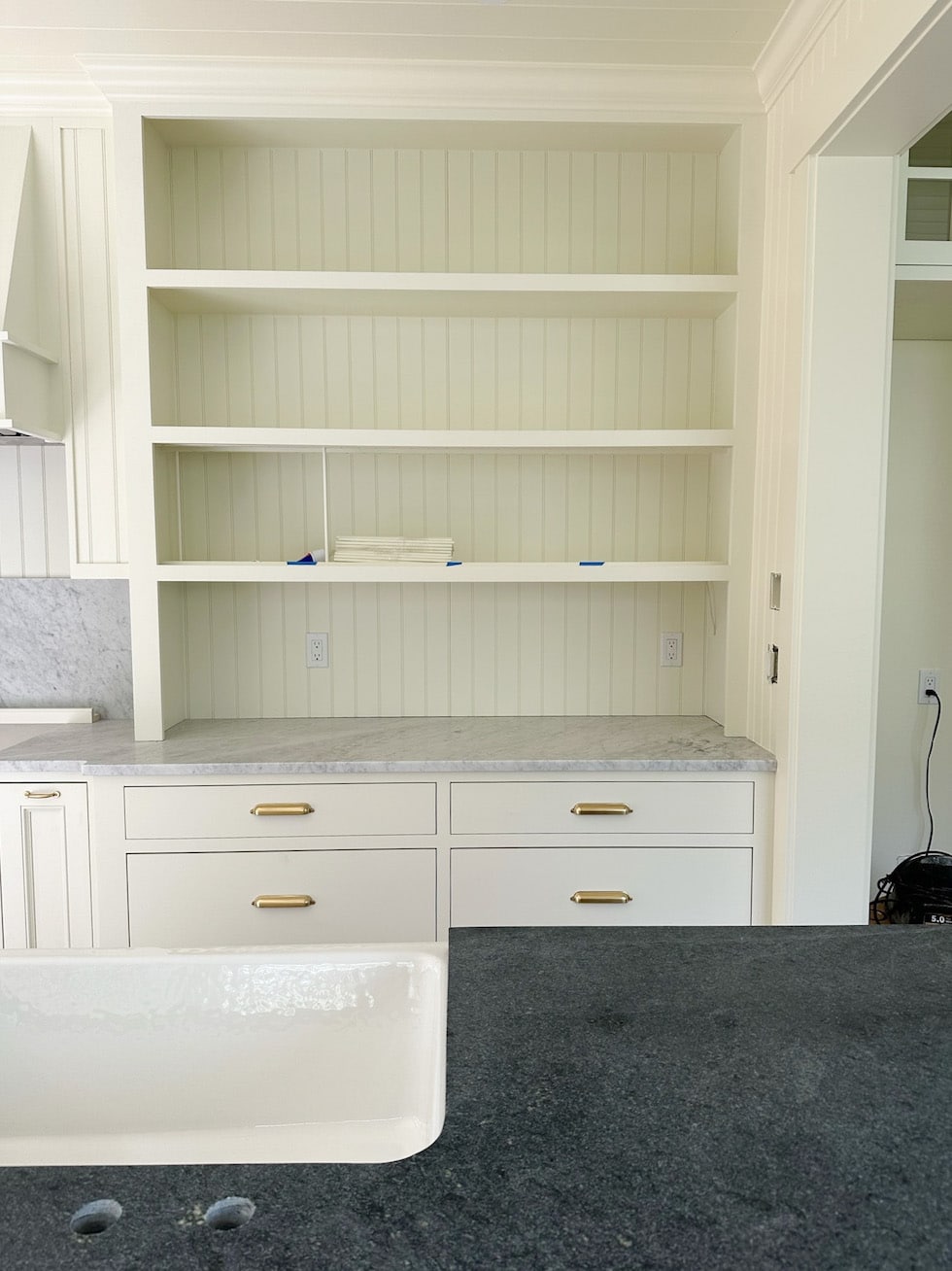 My vision for our renovation was to create a beach home that feels happy, warm and welcoming (in all seasons). I'm thrilled about the cozy timeless character that has been added through the architecture.
As soon as the renovation is complete we'll be layering in fabrics, furnishings and accessories in shades of blue and greens, warm whites and a variety of other NW cottage-by-the-sea-worthy colors throughout. As I mentioned, we want it to be a happy place! I'm even envisioning adding a lovely shade of coral color and a bit of yellow to our palette, so I'll be on the hunt for just the right fabrics.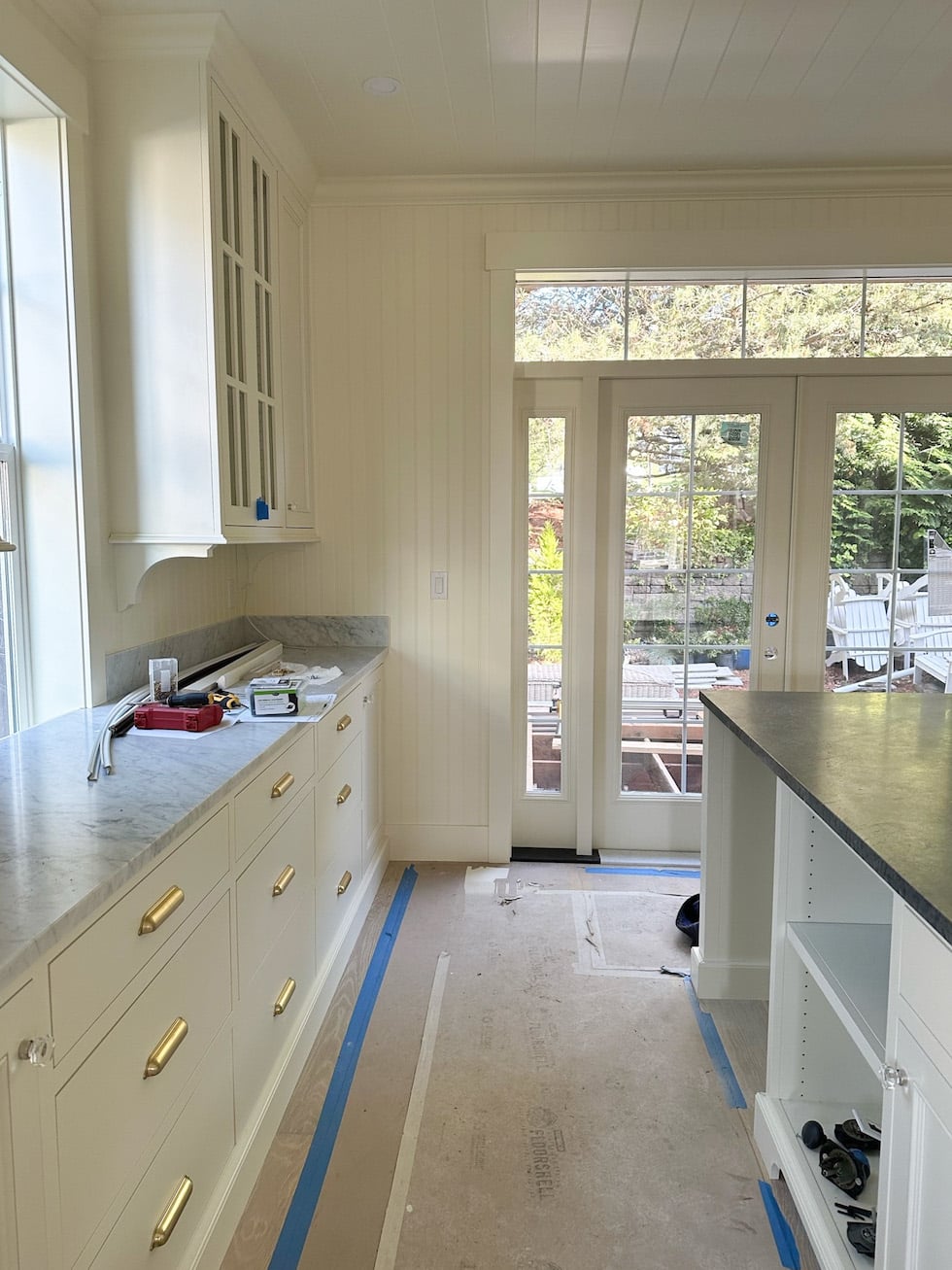 I love to decorate for each season and play with color combinations all year round, so it's exciting now to have backdrops in place that I know will give me so many creative opportunities to decorate in every season.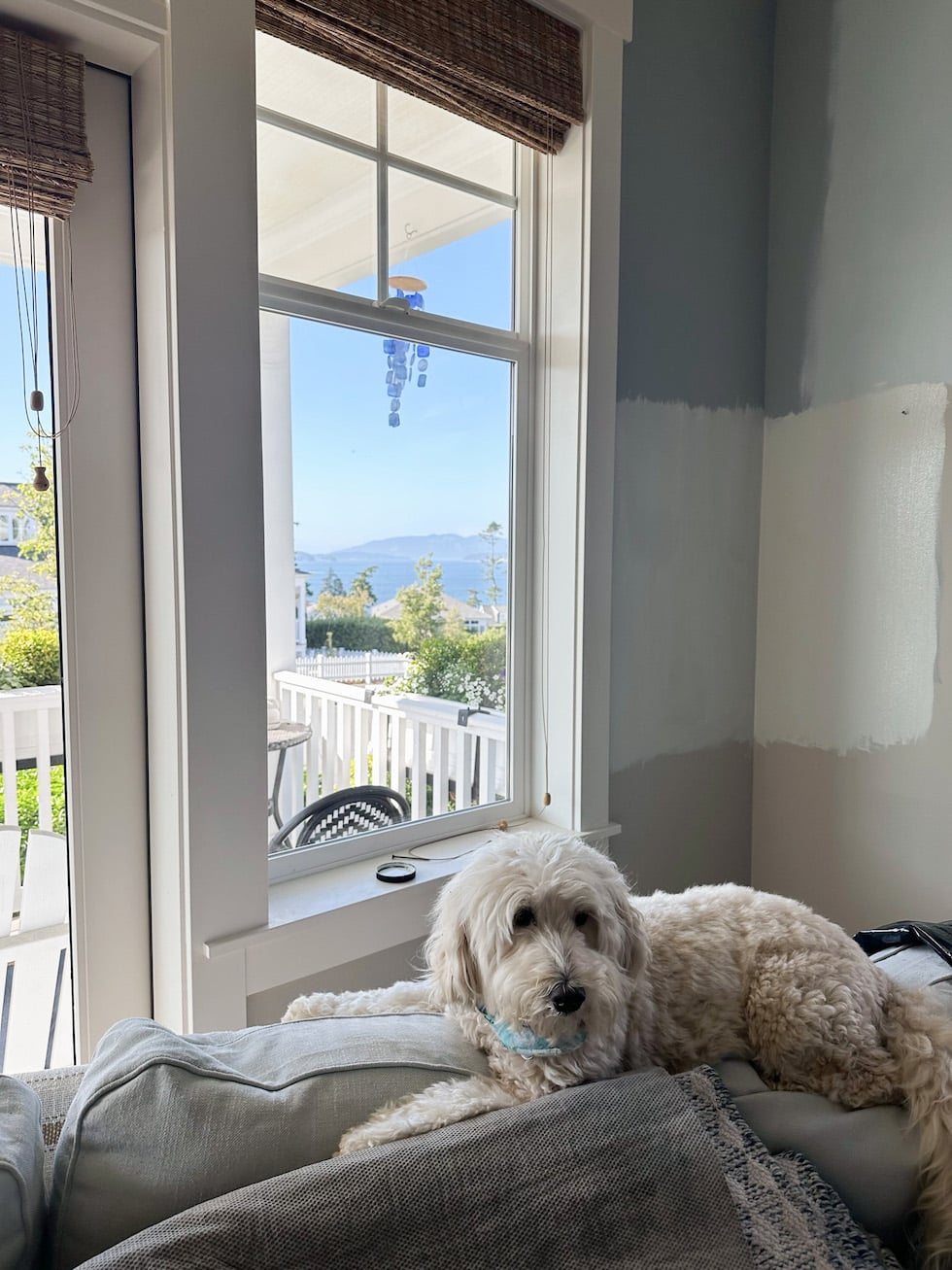 This past week we started looking at fabrics for our dining bench, considering window treatments and coming up with a vision for the adjoining living room. We've considered painting the living room walls blue (all the trim will also get a fresh coat of paint), but right now I'm leaning towards putting in blue grasscloth! I just ordered a sample of this blue imitation grasscloth to try out.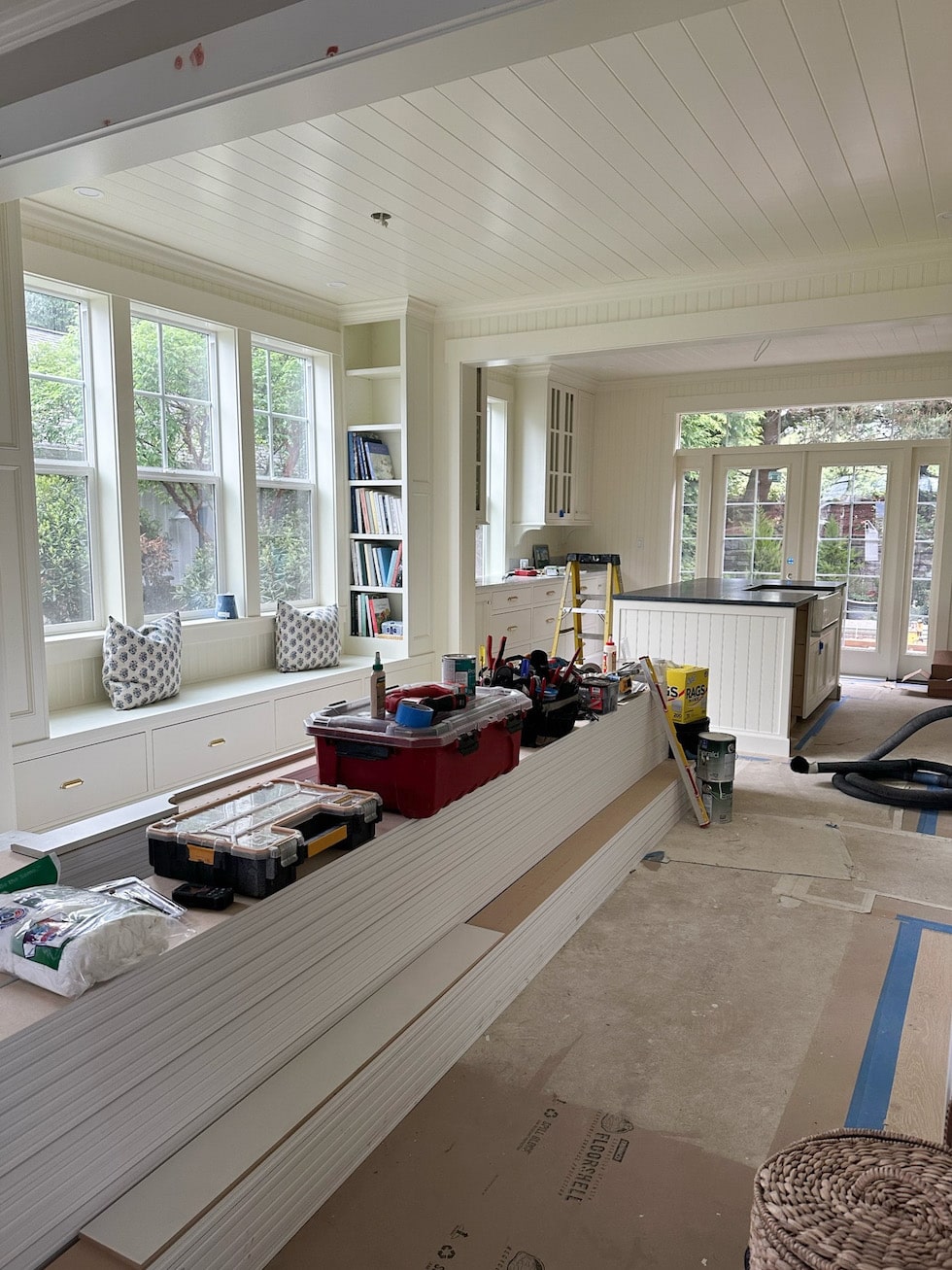 Visualizing new elements prompted me to set some books in the bookcase and a couple of pillows on the dining bench. It's a start haha, but it helps me to set up accessories to start to get a feel for the space.
I can't wait to set up a table and chairs and be able to do simple homey things again, so we're feeling very grateful to be on the home stretch!
The Tiny Cottage for my parents is also coming right along. It will be so adorable I can hardly stand it, so cute already! The lower blue cabinets for the kitchenette look SO GOOD (there will also be a blue dish display cabinet above, which will be installed soon). The color is Languid Blue by Sherwin Williams. Soon there will be a white sink, cooktop, and darling fridge. The sunny kitchenette windows will have window boxes right outside so they will be filled with flowers!
You can see the tiny cottage kitchenette design mood board here.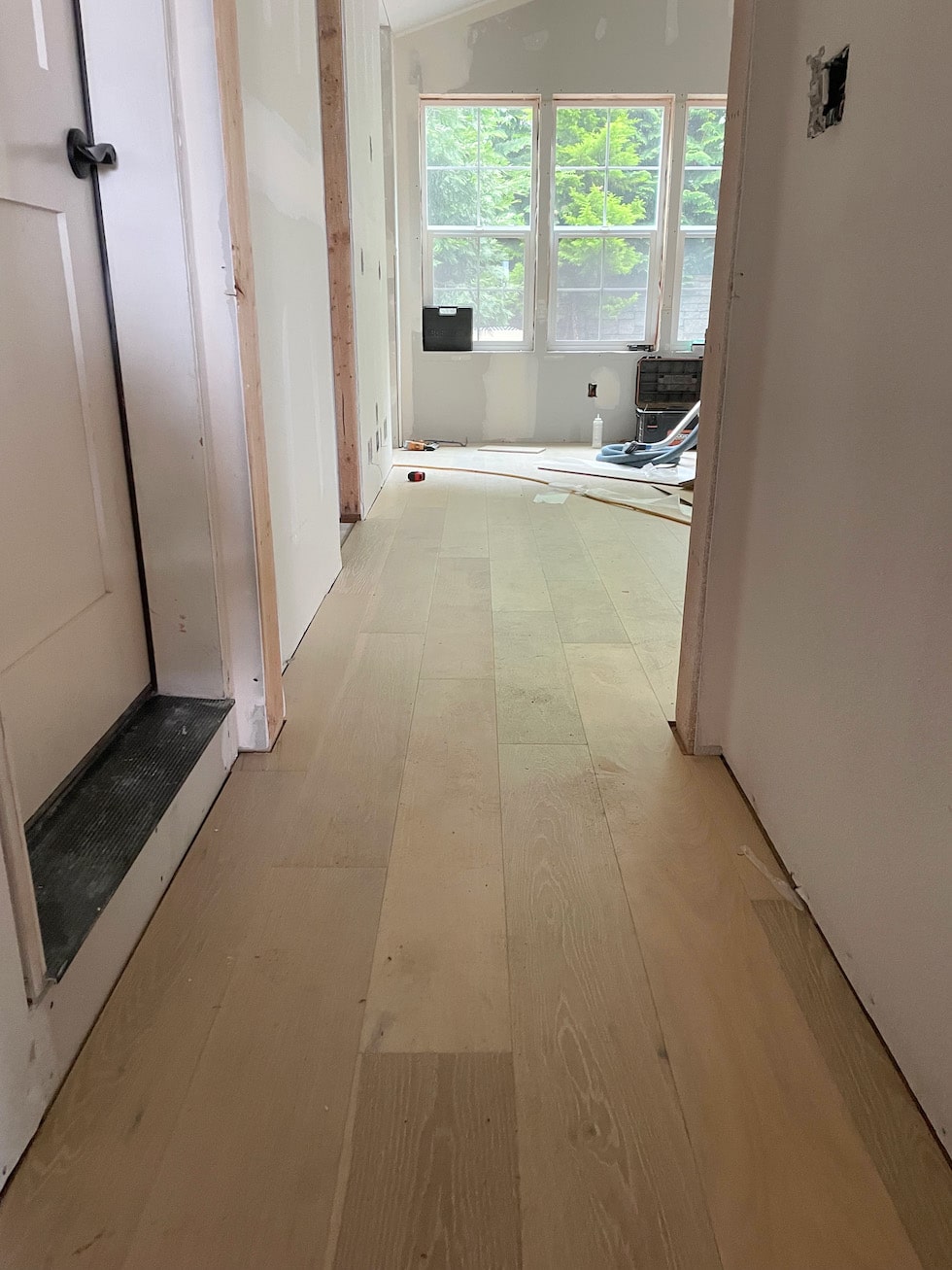 While they are now covered up, the gorgeous floors were recently installed. They are the same flooring as what will be in the rest of the house (European white oak). All of the walls and ceiling will be covered in Simply White painted paneling. Light, bright and yet soft, warm and cozy!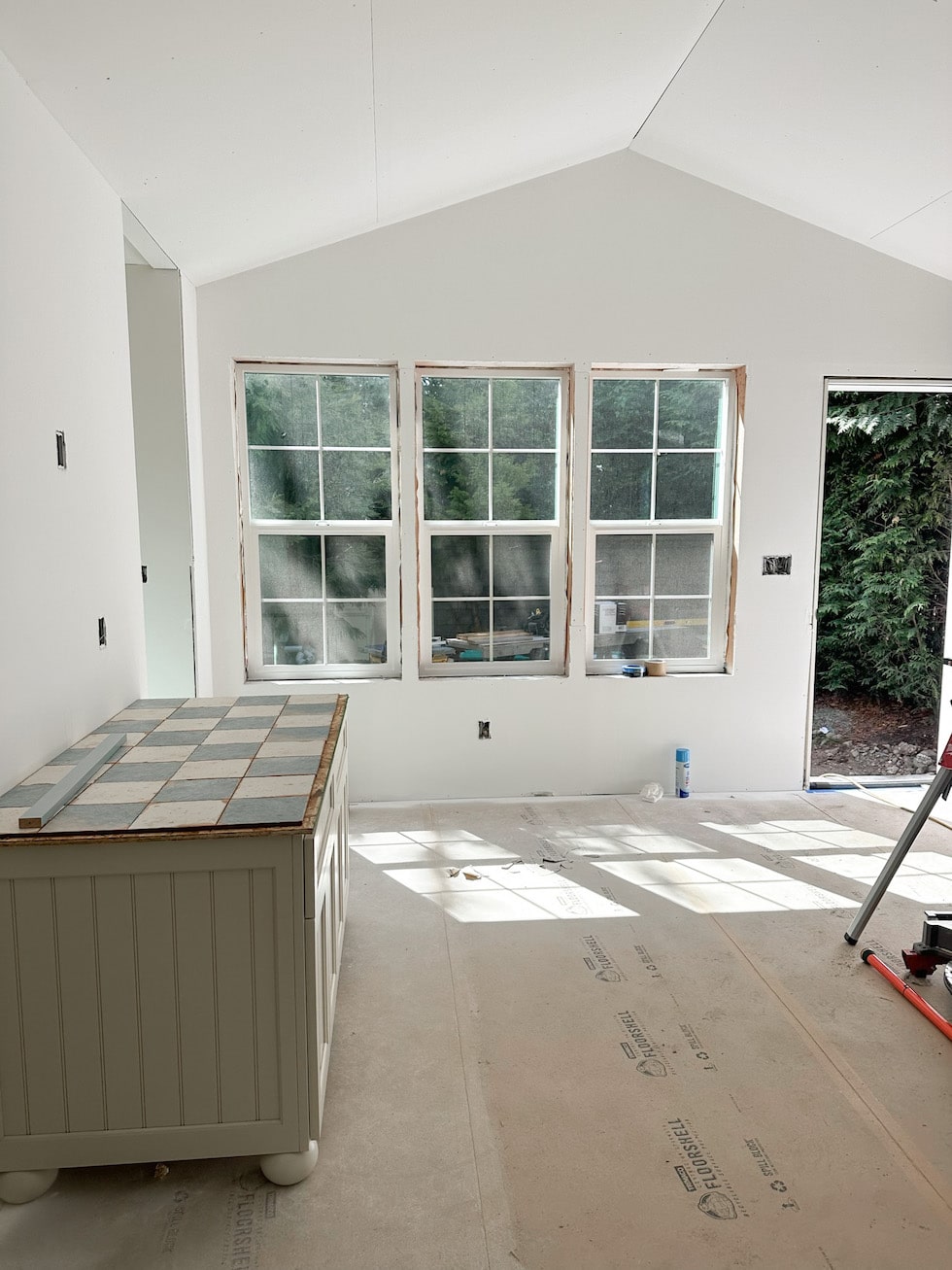 The cabinet in the sitting room will get a new top and the darling checkered tiles will be added. It is a multi-purpose spot (as is the entire Tiny Cottage, ha!). They will use the cabinet as an extension of the kitchen for their coffee station and countertop oven, additional storage, as well as their Frame TV on the wall above. Speaking of making every inch count! My mom has planned every detail of this tiny cottage so it will be as functional and cute as it can be.
The natural lighting in here is just gorgeous, she has morning sun and southern exposure all day so it's just the happiest! There will be an adorable blue fireplace by the windows. It will just be the cutest cozy place in every season, like a charming Bed and Breakfast getaway!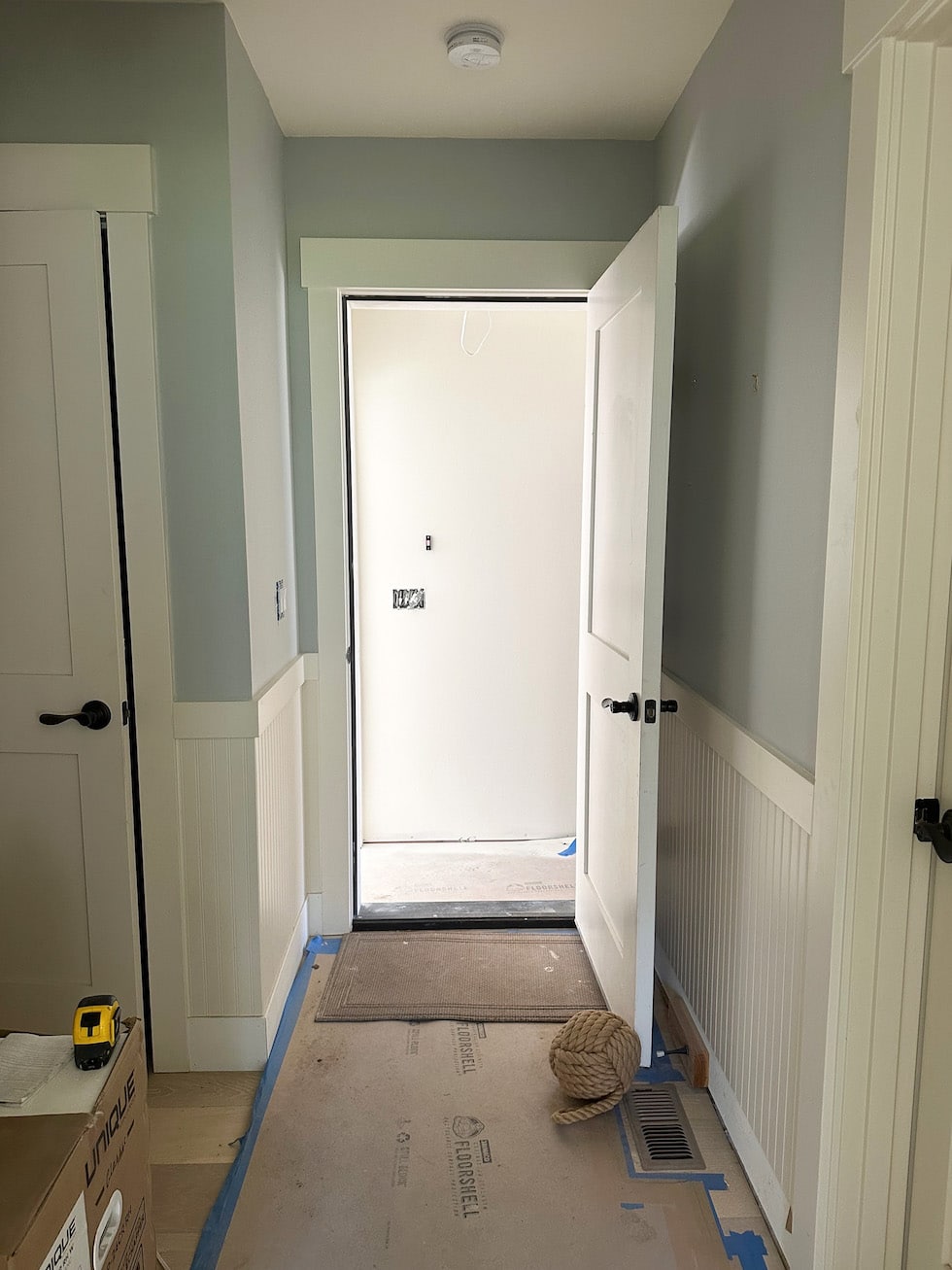 Some of you had asked how you get to the Tiny Cottage and where it is connected to ours. You can see the connection in this photo above. This is our mudroom right off our kitchen. Through the far door you can take a left into the Tiny Cottage or a right into the garage!
Stay tuned for more updates! Subscribe to my newsletter HERE to stay in the loop and get all of our decor posts and resources.
More Posts about our Remodel:
A Tiny Backyard Cottage (progress on the addition for my parents!)
Kitchen Renovation Update: Marble, Soapstone, French Doors and Beadboard
Tiny Cottage Kitchenette Design Mood Board (My Parents' Addition)
A Peek at Our New Coffee Station Cabinet with Pocket Doors
The Beauty of Soapstone Counters (+ why we chose them for our kitchen)
Kitchen Renovation Update: Floors, Cabinets, Sinks, Hardware and More
Our New Kitchen Design Mood Board (and five questions that help me make decisions!)
Adding Character in a Kitchen Remodel: The Tale of Our New Range and Faucet
My New Kitchen Floor Plan + Parents' Addition and Exterior Elevation